'We shot 'trench truth'', said director Bondarchuk in his interview during the 'loud' 3D film premier 'Stalingrad' in Kiev on September 30, 13.
'Stalingrad' is a sacred topic, a sacred story...' claimed 'Stalingrad' producer Rodnianskiy.
Myth of the Red Army looting
F. Bondarchuk 'threw light' on the Red Army looting in a special scene at the beginning of the film; a pair of 'dirty' heroes - 'sniper' Chvanov and a silly 'seaman' were the main characters of the scene. We put these words in quotation marks to avoid denigrating the Soviet snipers and sailors' glorious names (the approximate time of each scene is in brackets here and below).
Looting scene (25 sec). A 'sniper' and a 'seaman' are pickpocketing the dead Germans under the window of the building. There is no music heard, it's an everyday situation. Soldiers carry one more corpse and go. 'Sniper' joyfully exclaims: 'Oh, officer!' and bends over the body. The 'seaman' tore himself off from another body which he was pickpocketing and joins the 'sniper'. Both 'are working' with the officer's corpse properly and skillfully proving their experience. Officer's documents attract no interest and are thrown off. There is a medallion with a photo of the officer with his son in his breast pocket. The 'sniper' was looking at it for a while. Then he disappointedly spitted (ugh!) and scornfully threw it away too. Next, the 'sniper' is in luck's way. He mumbles contentedly taking a watch off the dead man's hand and saying: 'Half a loaf is better than no bread'. The 'Seaman' smirks knowingly.
Then follows a remarkable passage on the background of the scene when the 'seaman' is shot. It's interesting to scrutinize it:
Passage with the watch performed by the silly 'seaman' (25 sec). All fighters are busy preparing for the battle. They are inspecting their ammunition, weapons, etc. Commander Gromov is describing dispositions. The 'seaman' is the only one who does not listen to him sitting aside and having a good look at a wristwatch. He holds it to his ear, spits on it and rubs it dry. He clearly has just taken it off a corpse. Finally, pleased with his lucky loot he puts it on his wrist, and his face expression bears a resemblance to jackal's.
Proceeding to analyze these scenes we have to remind the readers that thanks to our discovery of the 'dark world' in Bondarchuk's film 'Stalingrad' (see Part Zero), the main characters of film 'epic' mythology were revealed to us like images of the divine, angelic and devilish persons. We have to explain that we use quotes in order to denote those characters, whom we treat the way different from occult film ideologists'. The most significant character of the film is sergeant Polyakov. He is both 'a righteous man' and 'an angel'. This is a very ominous character because there are Alien's horns under the 'sheepskin' of 'the righteous man' visible in a number of scenes. Girl Katia is a guardian angel of the building and our soldiers; she is a complex and contradictory character. 'The righteous man' and the guardian angel's mission in the film consists in preventing other values from penetrating into the viewers soul. 'Righteous' Polyakov and guardian angel Katia are opposed by 'sniper' Chvanov who is a Bondarchuk and other film ideologists' demon-molester, moral monster, 'dirty mouth'. His mission is to belittle our values. The next significant character is 'dumb' tenor Nikiforov or, in other words, 'Lucifer' and 'Satan'. He acts like the angel of death, Samael, brutally killing Nazis sinners with his knife. This character's mission consists in creating a dirty myth about the 'atrocities' of Soviet troops. Finally, there is captain Gromov who is like the archangel Michael, 'archistrategos'. We have already pointed out that film occultists had hid Alien's sinister nature in the human character of a Soviet officer. 'Archistrategos' Gromov's mission is to strengthen the dirty myth about 'atrocities' of the Russians and promote other values using his authority (see Part 2, Topic Euthanasia).
Let's consider the scenes of looting in essence now. It is important to note that none of our soldiers and even the commander did not condemn 'sniper' and 'sailor''s behavior and even did not make any comments. We also have to emphasize that this is, perhaps, the only topic in the whole film, which has no author's assessment. In other episodes we can find out Bondarchuk's position expressly or by implication through his narration, or the 'atmospheric and immersive' music, or heroic 'archistrategos' Gromov, 'righteous man' sergeant Polyakov or guardian angel Katia's assessment (all these authorities confirm and support euthanasia at once).
Soldiers' emotionless attitude to their fellow fighters looting should convince us of the myth saying that this crime was habitual and widespread in the Red Army. Commander's couldn't-care-less attitude looks especially strange because the Soviet troops command punished cruelly for looting, really, taking care of the discipline and morale of soldiers. Commander Gromov proved his concern about discipline when he ordered to shoot 'the seaman' (and a good job too). However, he did it not for looting but the other crime – 'the seaman' disobeyed his order and attempted to leave the field of battle. Therefore, we can reasonably conclude that Alien's invisible features show up in commander Gromov's character. We shall be able to see that more than once again.
Just for your information: looting is a serious military offense:
Russian Federation Criminal Code amended in 1926/edition 11/01/1956 says: 19327. a) Stealing any things on a battlefield founded and belonging to the killed and wounded (looting), entails imprisonment for a term not less than three years.
Russian Federation Criminal Code of 1960 and later editions up to 1996 (article for looting was removed from the RF Criminal Code on June 13, 1996) says: Article 266. Looting. Stealing any things on the battlefield found and belonging to the killed and wounded (looting) shall be sentenced to three or up to ten years' imprisonment or the death penalty.
Criminal penalties for looting were invented not by 'bloody' Stalin (note that a more severe punishment including the death penalty was amended into the Criminal Code in 1960, when 'liberal' Khrushchev was in power, while it was just 3 years in Stalin's time). Looting was punishable under Peter I and under Tsar Alexei Mikhailovich; it is also severely persecuted in all armies of the world since it demoralizes soldiers and officers. 'Historians noted many times that as soldiers turn into marauders, the army gets corrupted and is no longer able to fight. Discipline quickly reduces and worsens, commanders cause problems, bribing superiors appears at once, easily obtained valuables help to buy out of the orders and guards and the hard work; hard drinking and lechery begin to thrive. Dealers of stolen goods appear and the criminal world ethics begins to reign'.
After these words, many may feel resentment and misunderstanding. One may wonder if his grandfather who brought back a coffeepot from the war is a looter. No, he isn't! This is deemed to be a trophy. It is legal and moral according to the international standards but looting is illegal and immoral! Trophy is an unattended or forfeit thing, while looting means to steal corpse's belongings on the battlefield! E.S. Sienyavskaya has described the problem of trophies in her works in more detail. If someone dares to accuse a Russian soldier of a trophy camera or blame an officer for a gramophone, he has to commensurate these trifling trophies with a burnt house! Or with the whole city! Did not the predators really ravage half of the country? The hanged and burned persons do not count, do they? Looting was not a usual phenomenon in the Red Army. There were trophies in it. The difference between looting and legitimate trophy is just like one between prostitution and legal marriage, sex and love – they are divided with a fine moral line that our Russian soul can understand unlike the other Russianness, which does not recognize it.
Most viewers, however, do not know all these details; the true meaning of the film left unexplained to them. That is why the other Russianness is occupying temples of the Russian souls quietly and secretly. The myth about looting has been made up professionally.
The Myth of the Red Army Atrocities
The film 'Stalingrad' instills and persuades the myth of Russian soldiers' atrocities very skillfully and subtly.
1. Do you remember the attack of our burning soldiers when they were flowing on the positions of unemotional Germans like lava? This scene is as ambiguous as many other things in this film. After all, we understand that people enveloped in flames cannot physically run for so long. Therefore, we have a gnawing feeling: 'Everything seems to be good but something is not good'.' The bad thing is that according to the modern signs and images system those burning soldiers, inexorably approaching their enemy, conjure up the undead, the zombies. Thus, someone tries to inculcate in the viewer's subconscious mind an image of a beast-like Russian opposing a civilized German. F. Bondarchuk justifies this scene by 'epic' genre, which is sacrilegious. In fact, the heroism of Russian soldiers is based on indomitable strength of mind that allows to overcome the pain and torment rather than the boundless vitality of the body.
It is worth noting there is a superficial resemblance of this scene to some episodes of the defense of Stalingrad. First, sailor Michael Panikaha's feat has taken place indeed: when a bullet broke a bottle of Molotov cocktail in his hands and he caught fire, he rushed self-sacrificing toward the tank and ignited it with the second bottle. Secondly, there is a book 'There Was no Land for us Beyond Volga. Sniper's Notes' written by an outstanding sniper Vasily Zaitsev. There he describes a battle that the 284-th Infantry Division under the command of N.F. Batiuk fought on the night of September 23, 1942:
'As the Nazis discovered a concentration of our infantry near a gasoline storage, they engaged by massed mortar and artillery fire. Then dive-bombing started. The gasoline storage was blazing in flame, fuel tanks began to explode, and ground caught fire. Giant bodies of flames were rushing about with thunderous roar above the lines of attacking sailors. Everything caught fire. Another minute and we all will turn into burning ember, firebrands...
- Advance! Advance!
The soldiers and sailors on fire tore off their burning clothes on the go but no one laid down his arms. It was an attack of burning naked people...'
They tore off their clothes – they hurt them. Do you understand that? They behaved like human beings but they did not throw their weapon – it is strength of mind. Moreover, sailor Michael Panikaha was not a zombie, his several steps toward the tank are explained within his human nature, but his strength of mind is limitless and infinite.
2. Next Questionable Scene is Shooting of the Silly 'Seaman':
The scene of shooting on the spot (45 seconds). Commander Gromov has explained the situation to his soldiers and is giving the order: 'That's all, comrades, you know your positions. Go to your places. They are about to crawl soon.' Suddenly the silly 'seaman' enters into a dispute with his Commander: '... What are we going to do here? Whose order should we execute?' After the Commander had explained, the 'seaman' gets up and replies with a nasty smile: 'Your headquarters ordered you, so you have to execute. I still have to find my naval division headquarters'. The command ordered without hesitation: 'Nikiforov, shoot the sailor!' Nikiforov instantly raises his gun and shoots. Everyone is watching indifferently, only sergeant Polyakov says reproachfully: 'You shouldn't have done so, he might be useful'. The Commander replies with a joke: 'Why? I've got no steamer'.
Let's try to understand what this many-valued scene means and tries to tell us. Commander Gromov is 'Archistrategos', a hero, a great man. The silly 'seaman' is a criminal, self-seeker and marauder; he resembles a jackal Tabaqui from Kipling's 'Mowgli' fairy tale. 'The battle '(episode 6:38). There are not only the characters similar in appearance, but also the situations and even intonation are. Tabaqui mimics Council of Pack trying to please Shere Khan: ''We are taking the fight!' they cried!' and then he grimaces: 'But we are going to the north!'. The film plot here looks like that: the Council of soldiers makes a decision to fight but the 'seaman' teases their Commander and mimics as if saying 'I'm going to the north' (excuse me, to 'my headquarters'). Characters of other participants of the shooting scene are as follows: sergeant Polyakov is 'righteous'; 'dumb' tenor Nikiforov is cruel, impassive; master-sergeant Krasnov is both severe and mild; lieutenant Astakhov (rescuer's father) is an indifferent 'Sissy', 'sniper' Chvanov did not take part in the scene.
Thus, the 'Archistrategos' Gromov orders the 'dumb' Nikiforov to shoot the 'seaman' who laid down the law as a cowardly jackal, and Nikiforov immediately does it. Everything seems to be right in accordance with a military point of view, i.e. a Commander of any army in the world would give the same order in a combat situation to avoid undermining the discipline because it threatens to ruin not only his unit but other troops as well. The filmmakers show us, however, a different, peaceful point of view: 'righteous' Polyakov condemns the execution, and this is an authoritative assessment of the most important character in the film. What things make Polyakov-believer, 'this personification of simplicity and truth', condemn this shooting? He says: '... might be useful', i.e. considering the shooting in terms of reasonability and usefulness, which is typical Western mentality! Our righteous man would have to say: 'You should not have done so. We'd better off giving him to the tribunal,' i.e. to consider it in terms of justice! Next, the Commander jokes about a steamer (in the American style). So his words also reflect the Western mentality. As a Commander, he had to explain: 'He's a self-seeker, a coward, a marauder. How might he be useful? He will shoot us in the back!'. There is one more thing that adds 'ominous' background to this scene. The 'seaman' was shot very quickly, heartlessly, cruelly, and soldiers' apathy clearly tells us that it was an ordinary situation because shooting took place everywhere and a human life cost nothing in the Red Army at that time. There is also sailor Krasnov's perspective who watched with condemnation silly man making faces, and he even reached out his hand trying to stop shooting, although it would be more natural to hear from severe Krasnov its approval: 'You've done it, bastard!'. In general, there is ambiguous schizophrenia in the scene.
Let's assess this ambiguity now. Commander Gromov legitimately ordered to shoot the silly 'seaman' according to the situation and his powers. His words about the steamboat were a lie since a real Commander could not answer this way; he's neither a crime boss, nor an American ranger. So it is obviously an Alien's grin. Reproach of 'righteous' Polyakov comes from another Russianness, it's the same soft Alien's lies. Severe Krasnov's softness is also a lie, because this 'jackal' defamed the sailor name. 'Silent' tenor Nikiforov's impassivity is a lie since he is an artist, i.e. he has to live emotional life. We shall see further that he carries a tailcoat with a bow-tie throughout all fronts. The 'ominous' background is an artificial reality the abovementioned lies have formed.
However, the audience has no time to realize that all because the scene lasts for 45 seconds only, and then another key one quickly catches their attention in which the Germans are rounding up people for unprecedented action, a ritual burning. Disquieting music begins to sound and it tells us that something terrible is about to happen. Therefore, audience's consciousness is blurred and it experiences cognitive dissonance, contradictory feelings are tangled up and eventually the only impression leaves that 'something is bad in the Red Army, there is something sinister and cruel'. By doing so 'one more brick' about Russians' atrocity is laid into the subconscious myth.
3. Meanwhile, a scene of ritual burning of a woman and her child is going on whipping up into horror. We will analyze it in detail in another section below but now we can state only one thing - Commander Gromov shoots the poor woman and her child with a sniper rifle to save them from suffering burn alive. There is a small but important remark to this scene - Katia screams hysterically even before the burning starts: 'Shoot them!'. That that Katia called for, 'righteous' Polyakov silently approved and the Commander performed, is an act of euthanasia, i.e. killing victims in order to save them from suffering even without their formal consent. After watching this scene a conservative and religious part of the West society brought up on traditional values can say: 'Yes, Russian soldiers are savage barbarians, they don't believe in Christ and are brutish. Thus, one more brick is laid in the myth of atrocity. As for Russia, I think people will understand that this scene about euthanasia is another lie about the Battle of Stalingrad and the Great Patriotic War.
What idea should this scene add to the subconscious image of an 'atrocious' Russian according to the authors' opinion? It is the thought that, if necessary, a Russian wouldn't hesitate to kill a woman and a child.
4. The culmination of the film 'Stalingrad' is a scene of killing a fascist who came for water. They film authors planned that the 'atrocities' of Russian soldiers should come to a climax in it. All previous key stages are tightly connected with this scene and prepare the audience to the right perception according to the author's point of view, i.e. to the other Russianness'.
The scene of killing a fascist who came for water (75 sec). The fascist 'like a goose' is running for water trustingly throwing up his hands with jars toward our positions and acting as if he is innocent and came to Russia not to kill but drink some water. Katia is holding a sniper rifle; she is taking aim at him and 'sniper' Chvanov commands: 'Kill him.' Commander shouts: 'Stop!'. The camera is zooming in and shows the fascist close-up to enable us to have a good look at the murder in detail and be personally imbued with the tragedy to occur. Everything freezes. Katia pulls the trigger. Gunshot sound breaks the silence. The bullet pierces the fascist's chest, we can clearly hear flesh squelch; we can see a fountain of blood and a cloud of dust; the fascist is falling down slowly and we can hear the echo of the shot as if the whole world shuddered. 'Immersing' music begins to sound sadly; it reminds a requiem for the soul of an innocent victim. The Commander says tragically: 'What have you done, you moron!' How much pain is expressed here! Chvanov replies quietly: 'What have I done, Commander?'. Katia begins to realize her moral fall and lowers her gaze in shock and remorse. The Commander says: 'You killed a soldier walking for the water!'. Chvanov chuckles: 'He is a fascist rather than a soldier'. The commander furiously says: 'Even animals do not devour each other at a watering!'. Chvanov replies: 'Do you know the verse, Comrade Captain? Every time you can see him, you have to kill him!'.
Let's try to understand this nonsense. Images of characters have become clear to us by this moment. We already know Commander Gromov as a person whom the righteous' Polyakov has blamed for shooting the silly 'seaman'. Also we have seen the Commander shooting a woman and her child without hesitation. Thus, we have been led to believe that the Commander is cruel and ruthless even for the Russians. 'Sniper' Chvanov is a demon, marauder and moral monster; he's got a 'dirty mouth.' Katia is a bright and innocent image of a wonderful girl, a sort of a guardian angel. In fact, the demon Chvanov seduced her in a way (from F. Bondarchuk's point of view) tempting her to kill the fascist. Therefore, the main conflict in the scene is between Commander-hero Gromov and 'sniper'-marauder Chvanov.
It is also important to note that the present action follows the scene of the ritual burning of a woman with her child, which opened in fighters such hatred for the Germans that they rushed into the melee with a superior number of the enemy forgetting about the order to protect the building and thereby jeopardizing their main task of covering the crossing. As viewers we remember the explanation of the German colonel that the burning was not an atrocity but a sort of a simple ritual (according to the film's authors it was a crime but not atrocity). However, our soldiers do not know that and take the act for an atrocity. We are instilled subliminal ideas that our soldiers had never seen Nazi atrocities before and that is why the picture of burning impressed them so much.
Thus, in terms of hierarchy of values the film's authors hold to, the scheme of the episode is as follows:
'Righteous' Polyakov as a supreme hierarch condemns 'archistrategos' Gromov for shooting the 'seaman'; 'archistrategos' Gromov, in his turn, exposes demon Chvanov blaming him for killing a Fritz; repentant Katia realizes her moral fall and lowers her gaze which confirms that Gromov was right; Gromov condemns clearly and Katia does tacitly the murder of the fascist even after Nazis atrocities in the previous scene, i.e. our 'atrocity' turns out to be worse than the Nazis'.
Commander Gromov was shocked at the murder of the fascist who came for water. Even he, a cruel and merciless 'God of War' who had got used to killing without hesitation before, realized the depth of the utter atrocities and abominations of what had happened, and condemns it as the universal evil! It's interesting to note that there is a reference to Rudyard Kipling's fairy tale 'Mowgli once again. The phrase 'even animals do not devour each other at a watering!' is about 'water truce' of the animals during the drought heralded by wise elephant Hathi (episode 3:58). 'Mowgli' is a favorite cartoon of all Soviet and Russian children; the adults also love and respect it. Therefore, appealing to the image of the beasts, which allegedly do not devour each other at the watering (they do! Watch National Geographic!), is a consciousness manipulation trick when subliminal images are used for the suggestion that the Russian soldiers were even much worse than beasts! When 'sniper' Chvanov tries to protect his right to kill fascists 'at the watering' by reminding about his younger brother who had been killed, it looks obviously weak because Chvanov is a moral monster and he's got a 'dirty mouth', i.e. Chvanov has no credibility and respect. His 'dirty mouth' also says: 'Do you know the verse, Comrade Captain? Every time you see him, you have to kill him!'. Calling a 'verse' K. Simonov's 'Kill him!' written by heart blood (we'll listen to it below) is blasphemy which the filmmakers entrusted to commit to the vilest character of the film, i.e. a demon (at least, the silly 'seaman' had already been shot). Chvanov's 'dirty mouth' has to devalue this argument in the eyes of viewers thanks to K. Simonov's lines.
Let us review this nonsense again. The fascist could not walk carefree to 'the watering'; it is a lie since the Germans themselves always hunted for our soldiers who came for water (see below for evidence), and could not rely on a fabulous 'water truce'. Chvanov the fighter, even being a moral monster and marauder, had in our hierarchy of values a sacred right of a soldier to kill any fascist even coming for water. Katia had experienced the Nazis' brutality and violence and had the moral right to avenge of herself, her dead mother and sister, all the victims of her friends and neighbors of her building. A real Commander Gromov could not condemn the murder because spirit of hatred lived in every soldier and, of course, every Commander, and it dictated only one order: 'When you see him, just kill!'. A Soviet Commander who condemns killing fascists is an Alien in the uniform of a heroic Russian officer, a monstrous mutant bringing us the other Russianness and the turn of civilization.
Let me say about the so called 'water truce' and Nazi's 'cultural mercy' in the war. The older generation remembers the story of the Brest Fortress heroic defense in June 1941 and how much blood its defenders shed for water (i.e. we paid blood for water from the first days of the war). Alexander Shcherbin writes about that:
'It is worth regretting that at that time such a captain Gromov did not instruct Hitler's warriors of the 45-th Infantry Division who were firing point-blank the Brest fortress defenders trying to get to the water of Mukhavets and Bug. There were a lot of the wounded, women and children who desperately needed water in the large quantities over there but it did not stop the Reich's soldiers'.
And let the witness from the sites 'Children of Stalingrad' and 'Historical Truth' score the last nail in the coffin of the myth about the fabulous 'water truce' during the Battle of Stalingrad:
'Water. What seemed to be more than it in Stalingrad? Nothing else but water because the Volga was so close. But it was water that we lacked so much in basements... Price of water was often very high, it cost human life. It was the price some of my peers paid hiding like me in the boiler room of a hydrolytic plant building. It was the place from which in September some daredevils went for water to glaciers located near the elevator. Alas, none of them came back... A German sniper was sitting on the top of the elevator and shot everyone who approached him...'.
'I was puffy from hunger and half-naked (all clothing was changed for foods) and every day I went to the Volga for water under artillery fire. It was necessary to push and slide apart the corpses, which covered surface water near the shore. The Germans fired mortars even single targets and did not allow to come closer to water in the daytime.'
But the audience, especially the young, have no clue about it. Gromov and Chvanov's dramatic dialogue continues 35 seconds, then other scenes grip the attention of the audience and even adults have no time to think them over. So this way one more 'brick' of myth about 'atrocities' of Russians is instilled into an inexperienced person's subconsciousness.
5. Cruelty of our soldiers is relished in a number of episodes. Twice camera shows a close-up how 'dumb' Nikiforov dispassionately plunges a knife into a German body and turns it crunching. In another episode Commander Gromov disembowels a fascist's corpse and daub his blood on the face to mask. Do we believe that this was a war? Of course, we do. Can we condemn the Red Army soldiers who fight so desperately? Of course, we can't. They can kill the fascist bastards in any way and use any means for that. The fascist scum invaded our country, killed millions of our people and brought untold suffering to the Russian people. Thus, they put themselves in our hierarchy of values onto the position of utter metaphysical evil, which must be won at any cost and by any means.
So, we believe that our soldiers cruelty is truth. But there is a Malchish-Kibalchish's painful sensation disturbing us here again: 'Everything seems to be good, but something isn't not good'. The problem is there is no proportionality between the images of our soldiers and images of the Germans. Cruelty of our soldiers is on the screen, it is savoured close-up but the cruelty of the Germans is behind the scenes, though; it is somewhere far away expressed by F. Bondarchuk's indifferent voiceover. If there is no proportionality, the war image completeness and perfection are violated. And when there is no completeness and perfection, it means there is no Truth of war in this film. And if there is no Truth, thus, it all works for the same myth of the 'atrocities' of the Russians.
6. Eventually we got to the final episode - the murder of a fallen girl Masha.
Death scene of a fallen girl Masha (100 sec). Alarming music is sounding. Captain Kahn leaves the building, but 'sniper' Chvanov does not touch him (!). Before the German makes five steps, the fallen girl Masha appears on the doorstep and gently asks him: 'Are you coming back?'. Chvanov instantly takes aim at her. Music stopped, and so did the world around. Chvanov shoots muttering: 'German broad'. The girl is slowly falling down; there is a little dot in the middle of her forehead, it's a bullet hole. Life is dying out, we hear the girl's last slow exhale. A new theme song begins, it is 'atmospheric' sadness. The camera is zooming in the girl's sprawled body, her beautiful blond hair is scattered, and wind is softly swaying one lock. Tribulation minute is on earth. Captain Kahn straightened up near the girl's body. Music becomes courageous theme as if calling for retribution. He screams 'Russian!'. 'Sniper' watching the scene in sight violently reloads the weapon but... there is no shot following.
Absurdity of sniper's behavior when he 'lays down' (a Chvanov's expression) a Russian girl, even though she was fallen, instead of a German officer, slips away from the audience. All eyes are on the tragic denouement of 'love story' taking place 'against the background of one of the bloodiest battles in the history of mankind' (as they say in the film advertisement). Music (i.e. the author's opinion) tells the viewer: the crime happened and love is killed. German captain Kahn, a positive character in the value system of the film's creators, condemns this cowardly murder around the corner. He is like a real Teutonic knight rises proudly and fearlessly in all growth near the body of the fallen girl and calls his enemy: 'Russian!'. Shocked 'sniper' Chvanov is unable to shoot a German officer even though he reloads his weapon.
It is noteworthy that other film characters are not present in this scene, and it seems at first glance we will not hear their comments. Let's note, however, that Katia condemned the murder of the fallen girl in absentia when she was indignant with 'sniper' Chvanov's suggestion to shoot the girl and said: 'Are you nut?' (it was in the scene before the murder of the German at 'the watering'). Girl Katia, as we already know, is a clean and openhearted character, a voice of conscience in this film, so the authoritative assessment has been given.
It's important to note one more detail. This scene unfolds against the backdrop of another exciting one in which Nikiforov performs his last feat: he first throws a grenade and undermines the Germans, and then uses a stratagem and brutally kills a German colonel sacrificing himself (you remember he's Samael, the angel of Death, coming for sinners with a serrated knife). This definitely heroic act is contrasted with stupid murder committed by 'sniper' Chvanov, thus enhancing his conviction.
Let us make our assessment too. We join Katia's opinion that Chvanov is a fool. Of course, the punishment of the fallen girl through her murder is disproportionate to her offense. She ought to be judged, as it happened in Soviet Union. In France 20,000 women were condemned for cohabiting with Germans (for the so-called 'horizontal collaboration') according to the law adopted in 1944. They were inflicted upon a penalty of public humiliation on the streets. In Soviet Union those were put in prison. It was much harsher. But every society has its own laws according to the mentality, culture and current circumstances. We had our own, the French – theirs. Scale of the fascism crimes in the USSR and France is incommensurable. Such women were formally condemned harsher, but who can evaluate what punishment brings more suffering: either to go to jail or be publicly humiliated and become a social outcast. Anyway, the punishment according to law is different, but the assessment of the act is the same: it is a universal crime for any healthy society (General Charles de Gaulle is so great because he returned the honor for the French, i.e. the moral health), since common interests are above the personal ones in hierarchy of values of such a society (at least they were for the French in a situation of war and national humiliation) and honor prevails over salvation through treachery:
'And until you have killed him, don't
Talk about your love - and
Call the house where you lived your home
Or the land where you grew up your land'.
But what does our audience feel? They will have squeamish precipitate of 'atrocities' of the Russians again because they have no time to think. Nikiforov performs his feat and we bow our heads in memory of our heroes. However, the air is filled with the pernicious spirit of the other Russianness.
Myth of the Instability of the Russian Soldiers' Spirit During the Battle of Stalingrad
There is one scene in the film 'Stalingrad' that has caused perhaps the greatest outrage among viewers. It happens when the filmmakers expressed their doubts about the intestinal fortitude of the Russian soldiers in a dialogue between two protagonists:
The Commander and Katia's talk (35 sec). The Commander expecting a Germans' decisive assault and urging Katia to get farther into the rear positions, tells her about his fighters: 'They are now fighting for neither the Motherland nor Stalin, they are fighting for you now... Motherland cannot be killed, it is big... If you are, they'll give up'.
Can you imagine that a Soviet Commander on November 16, 1942, just three days (!) before beginning our historical attack and breaking fascism's back, admits that his fighters could give up?! It was the Germans who did instead! They fled in panic along with the Italian and Romanian divisions! It was their generals, famous Prussian aristocrats, who negligently missed preparation of our strategic offensive and concentration of forces in the main direction of impact! It was our State Defense Committee (GKO) headed by Joseph Stalin that was able to mobilize resources of the exhausted and exsanguinated country to deploy new weapons production, construct new railway lines unprecedented in terms as well as to supply the army with all necessities. It was their highbrow intellectuals who having enormous human and material resources of all satiated Europe and having occupied the most important economic zones of the USSR, failed to beat us for armaments. The German command sent 'tons of candies (!), dozens of boxes of condoms (!), knitted sweaters, ladies' coats (!), muffs, gloves, caps with ribbons and without them (!), slippers, home shoes made of camel wool, pot warmers, boots for skates (!)'(source). Some think that material resources are the most important thing in the war. We believe that the most important thing is to beat the enemy's spirit, though, and it will create the matter necessary for victory.
Do you feel the Commander Gromov's heroic image stinking of Alien's pernicious breath? You can see him, Alien, making faces and trying to seduce young and tender souls as well as breaking elders' ones filled with gloom. Do you want to know the truth? Here is the testimony of Konstantin Simonov, our great poet who wrote those extremely harsh lines within one day at the Stalingrad front when Germans were coming up to the Volga. He is now appealing to you, listen to his verse: 'Kill him!' says Simonov. Do you understand? The spirit of that time and the short name of this spirit are emphasized in the word «hatred»! Hatred for the enemy, the fascist scum, which burned our villages and towns, hung and shot, tortured and raped millions of people! This spirit broke into the 'ether' through the hearts of our poets and writers in July 1942 at the Stalingrad front and spread rapidly throughout all other ones. Enormous flame of unspeakable suffering and loss, total enslavement threats and thousand-year history loss created a smashing plasma sword in the Russian soul - the holy spirit of hatred and revenge, which brought death to fascism. 'Sow the wind, reap the whirlwind...'.
The emergence of hatred was caused by a number of circumstances, among which there were widespread evidences of Nazi atrocities in the occupied territories. During our winter offensive of 1941-1942 many German photographic and film materials as well as letters of German soldiers and staff documents showing unprecedented torture, murder, rape of the civilian population were captured. Moreover, our operators were able to film the villages and towns liberated from the Nazis. Thanks to these materials the Nazis atrocities became clear and evident and appeared in newsreels. Information about the atrocities was also published in the newspapers. It filled the Russian soul with resentment and anger toward fascism, and at the certain time of the extremity in July 1942 it resulted in a spirit of hatred.
Hatred! Hatred for the enemy! In July 1942 practically every soldier has read or heard Simonov's 'Kill him!' or Ehrenburg's 'Kill!' and other calls of our writers and poets. On July 28, 1942 the famous order number 227 'Not a step back!' was issued. It was read out to all the troops and has played a prominent role in strengthening the spirit and discipline. This spirit of hatred was shown in August 1942 throughout all fronts. It was not yet that clear in 1941, and it apparently was not shown to such an extent after 1942, when it merged tightly with the spirit of confidence in victory. It was a special moment, both desperate and decisive. If Moscow had been given up, it would have been infinitely painful, but the army would be able to go on fighting. If Stalingrad had, however, how would they have been able to fight without traffic and communications and connection to the oil-bearing regions of the Caspian Sea, without fuel?
Ilya Ehrenburg remembers the spirit of Russian soldiers at the beginning of the war in his book 'People, Years, Life':
'At the beginning of the war, our soldiers had no hatred for the enemy, on the contrary, they felt some respect for the Germans associated with their foreign culture. This was also a result of education. In the twenties and thirties every Soviet schoolboy knew the cultural traits of many nations: the density of rail networks, the number of vehicles, industry development, the spread of education, social hygiene. Germany was one of the first ones in all the spheres. The Red Army soldiers found books and notebooks for diaries, advanced razors and photos in war prisoners' pockets and bags. 'What a culture!' the Red Army soldiers and Penza farmers said admiringly and at the same time sadly showing German lighter that looked like a tiny revolver'.
'I remember a difficult talk to the gunners at the forefront. The battery Commander was ordered to open fire on the highway. His soldiers did not move. I lost my temper and called them cowards. One replied me: 'You cannot just cannonade over the road and then move away. You ought to allow Germans to approach closer and try to explain to them that it's time to come to their senses, to rise up against Hitler, and we will help them do this'. Others assented sympathetically. A young and seemingly intelligent boy said: 'Who are we shooting? The workers and peasants. They believe that we are against them, we give them no chance...'.
Here is the a memory of my close relative about summer of 1942; he was a teenager at that time and survived the war in the village of Otrozhki on the left bank of the Voronezh river, 7 km from the city of Voronezh that was occupied by Germans (Stalingrad direction):
'At the beginning of July 1942 there was a big panic, our troops fled throwing a lot of things at the station. There were times of famine, we, boys, climbed over the carriages and found some unattended food; it helped to feed our families. I also remember that in August-September our military units began to pass through our station and they had a completely different spirit, they were confident of victory and eager to fight'.
Do you understand that it was in August 1942, namely in the city of Stalingrad which was located in the direction of the main strategic impact of Nazi Germany, when their tanks rolled victoriously to the outskirts of the city, when on August 23 their carpet bombing brutally burned and destroyed Stalingrad, when their power seemed to break our resistance; that's the time when the miracle of the Russian spirit transformation has seized all the people of our great country! And F. Bondarchuk has lost or has not noticed this spirit of the main participants of the Stalingrad Battle either in the heat of love passion or because of his focus upon the creation of the civilization turn. On the other hand, other personal experiences are displayed on the screen by means of deep diving in the 3D IMAX format and slo-mo effects.
The Myth About the Harmlessness of Fascism
1. Nazi atrocities? According to Bondarchuk's version, there is no need to recall them, even if they had really taken place. Europe is culturally educated and if we begin to rub their nose in genocide of the Russian people during the Great Patriotic War, it will not be tolerant and politically correct. Therefore, it is not worth showing anything like that in the film, just a voiceover will comment that 'wife was killed, daughter was killed, sister was raped...'. But audience' impression from the voiceover is thousandfold weaker than from powerful synthetic visual effects (3D) and music ('immersive') series. Moreover, monotone insinuating Bondarchuk's voice sounds in the film so that you feel there is a main thing missing - the love for the Fatherland; this voice expresses indifference at best. But we remember how the voice of the people who have a heart burning with love for their Motherland, sounds and how it can express attitude to disaster and suffering, the triumphs and victories. Listen how much courage, anger and bitterness in Y. Levitan and Konstantin Simonov's voices or in this Oath! Listen how Y. Levitan proclaims about our successes, of breaking the blockade of Leningrad and the victory at Stalingrad! Not for nothing did Hitler considered Yuri Levitan a Reich's enemy number one. Marshal Rokossovsky said Levitan's voice was equivalent to an entire division. Bondarchuk's voice can probably only demoralize. As a result, the film creates a myth about the harmlessness of fascism.
2. The next scene is to show us a high moral character of fascists through the German Colonel's assessment of Captain Kahn's affection to the fallen girl Masha when he obviously neglects his officer duty (to prepare his soldiers for assault, maintain their morale and many other things an officer has to do in a combat situation):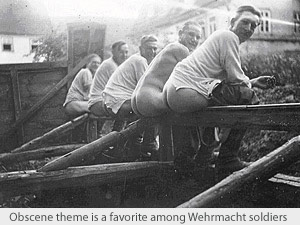 Scene with German Colonel in the fallen girl's room (95 sec). Colonel finds Captain Kahn in the fallen girl's room. 'What a spectacle! A German soldier lies in the underwear in the Russian whore's bed. This happens at the time when the German army is trying to keep the bank of the Volga. It's a perfect example for the rest. I have no words, Captain. What can you say in your defense? I can understand you as a man. But I do not understand you as an officer'.
Unlike the other scenes in which the performance is made rapidly and the viewer has no time to gather his thoughts, this scene is slow, it includes long pauses for we need to feel the depth of the Captain's fall in Colonel's estimation; it was not without reason that he guardedly repeats several times: 'I have no words'. We are gradually persuaded the idea that the Captain's behaviour is an extraordinary act, the German army's morale was high and the German officers abode the rules of honor and controlled the soldiers. But we know about the moral character of German soldiers a little more than the filmmakers do, and we'll share to share a selection of expressive images with readers (acknowledgments to blogger uglich_jj).
3. One of the most striking scenes in the film 'Stalingrad' is Captain Kahn's speech in front of a line of heroic fascists who stood erect as if they were on parade:
Captain Kahn's speech (100 sec). Captain Kahn is reviewing his soldiers before the battle. Epic strong music sounds, which reflects the dignity and power of the German army. You can hear the words: 'God is with us!'. Music at these words is rising up to the heavens. 'God is our leader Adolf Hitler. Hitler is Germany. Germany is with us here, in this place... The Volga is behind this building . And behind this building the war will be over. Further behind this building is India. In India all whores have six arms. Just imagine what they can do with their six hands at the same time! Maybe, someone does not want to India, does he?' The Captain's face is illuminated at these words...
In this scene the 'heroic' image of the German army is promoted quite frankly and without any hesitation. In the film 'Stalingrad', which plot is 'sacred' for its authors, blasphemous glorification of fascism is going on before our eyes. We are instilled 'they are not animals, just another army's soldiers wearing different uniform, speaking a different language, but they are just like us, they also want to go home, to their families, we made war with them a bit, but now let's pay tribute to their courage and heroism'. However, we remember that these were not just soldiers and it was not just a war. These were the Nazis and they came not to conquer us but destroy. We know the following Hitler's statement about the war in the East:
'We must exterminate the population - it is our mission to protect Germans. I have the right to kill millions of people of the lowest race who are reproduced like worms'.
'On March 30, 1941 at a meeting of the Wehrmacht high command Hitler stressed that all the efforts in the war against the Soviet Union would be aimed at 'destruction and the fight would be very different from the war in the West. Cruelty in the East is useful for the future.' In accordance with the general plan 'Ost' 120-140 million people in the USSR and Poland were supposed to be annihilated. The main directions of this policy Reichsfuhrer SS Himmler have stated in the secret memorandum 'Some Reichsfuhrer SS Himmler's ideas about the treatment at the hands of locals in the eastern regions'.
Ideological propaganda of the Wehrmacht and SS' soldiers was carried out during preparation for aggression against the USSR and it contributed in practical implementation of the crime. 'German soldier handbook' published for the Wehrmacht staff said: 'You have no heart and nerves, the war does not need them. Get rid of any pity and sympathy, kill every Russian, Soviet, do not stop even if you face an old man or woman, girl or boy, kill them; this way you save yourself from death, secure the future of your family and be famous forever'.
Compare the scene of fascism glorification with the above evidence and you see with half an eye that it is not an Alien's shadow but Alien himself in his entire animal guise. Can you feel your bones begin to crunch because of upcoming turn of civilization?

4. There is no single episode of Germans' violence, cruelty and atrocities against the locals in Stalingrad. The only exception is the scene of the ritual burning of the woman and her child, but the Germans have an excuse - it is their response to the 'barbarism' of Russians who had thrown out Germans' decaying corpses (but what else to do with them in such situation?). We are again gradually imposed the impression that all Germans' actions are motivated by 'cultural' and 'ritual' considerations. Accordingly, the locals walk along the streets without fear and anxiety just trying to get round the Germans who do not pay attention to them. It is worth mentioning a scene of impudent woman with a child trying to break through our positions into the occupied part of the city. She is not afraid of going over there although the German Colonel will say later that she is a Jew. This quite experienced and knowledgeable woman is not afraid of the Nazis in the second year of the war. We wonder if she did not hear about Babi Yar in Kiev where the Germans shot 150,000 Jews in 1941 including women and children. Doesn't she take care of her child? A Stalingrad resident A.A. Jagodin recalls what was happening over there in fact:
'As soon as the German tanks appeared, massacres began. The Germans hung people to the tunes of mouth organs, saying they fought against guerrillas. There was a man or a woman hanging almost on every safe post. The Nazis burst into basements, cellars, the gaps and robbed, raped...'.
My mother remembers:
'We were evacuated from the city of Voronezh to Stalingrad on July 2, 1942. A classmate of mine did not leave since her father was a party secretary and had no time to evacuate, so he left for underground work. He stayed in Voronezh with his wife and daughter... They were informed to police, caught and hung on the trees in the park in front of the university - father, mother and their daughter of 17 years old'.
There is nothing of the kind to show us in the film 'Stalingrad'. Today's youth grown up and educated by the EGE-test system may not suspect any fraud. Lulling us with nice images of the indifferent Nazis, we are once again gradually and blatantly told a lie promoting a myth of harmlessness fascists in the subconsciousness of the audience.
5. There's a brutal scene of ritual burning of a woman with her child, but the German Colonel has explained to us: 'We have forgotten our roots and origins in this war. The ancient Germans sacrificed to their gods before a fight'. That is not brutality but a cultural tradition of the Germans; there was no the ideology of fascism, the Waffen SS troops and genocide against Jews and Slavs. Even the flamethrower man before the ritual burning looks not brutally but cynically and good-natured with a cigarette sandwiched carelessly in the corner of his mouth; he quietly lights his partner's cigarette from the flame and his whole appearance says that it's just a job to burn people, like a modern profession of killer now. I think that Germans themselves will have to review and realize this historically false film since justification of the burning of people with reference to 'the roots and origins of the ancient Germans' rather than racist theory of fascism, insults the German nation with its great culture and traditions.
Of course, this episode is severe, but it cannot be compared to the scale of the atrocities committed by the Nazis in the Soviet Union. The filmmakers must merely have been ashamed of telling us about it. And we are not ashamed and remember, for example, about the tragedy of the Belarusian village of Hatyn where fascist beasts burned alive 149 inhabitants:
'Brutal fascists rushed into the village and surrounded it... All population of Khatyn from small to large - the elderly, women and children – were driven from their houses and urged into a shed... None of the adults left unnoticed. Only three kids - Volodya Yaskewich, his sister Sonia Yaskevich and Sasha Zhelobkovich - managed to escape from the Nazis. When the entire population of the village was in the shed, the Nazis locked barn door and covered it with straw, doused with gasoline and set on fire. Wooden shed caught fire instantly. The children were crying and suffocating in the smoke. Adults were trying to rescue them. Under the pressure of the dozens of inhabitants the barn door broke and collapsed. Horror-stricken people in burning clothes were fleeing, but the Nazis shot in cold blood with machine guns those who escaped from the flames. 149 people including 75 children under 16 were killed. The village was looted and burned to the ground'.
I think that this tragedy can cause terror in every person, no matter how cynical he might turn out to be. We consider it as an extreme of violence. But the horror of fascism is that it has no extremes. Let us have the courage and say that altogether there were destroyed and burned 9,200 settlements including 5,947 villages, along with their inhabitants in Belorussia; in 1941 there were 219 villages, in 1942 – 822, in 1943 – 3,731 and in 1944 – 1,006'.'Scorched earth' tactics became more widespread in the autumn-winter of 1943-44. In the last period of the Nazi occupation special teams of arsonists were created and they played a role of Wehrmacht in the implementation of total devastation policy in the occupied territory. Their task was to carry out the utter devastation of the territory while Nazi troops retreated. The population was killed or taken to Germany. One of the main methods... was the mass destruction of human settlements together with the residents. As a rule, people were driven to a house, shed or barn, then it was tightly closed and set on fire. The Nazi policy of genocide and 'scorched earth' resulted in 2.23 million people killed in Belarus for the three years of occupation. Every 4-th person in Belarus was killed'.
Total losses of the USSR in World War II amounted to 26.6 million people.
6. Next we see a strange scene of driving Soviet people to Germany for slaves. F. Bondarchuk tried very hard to avoid the cliche. There are neither barking shepherds breaking loose from their chains nor evil shouts of the guards nor severe butt hits nor howling of mad women separated from their children. People are wandering humbly and quietly, the guards are standing still. The scene is mournful but not brutal as it was indeed and was reflected in the memoirs:
'I remember I saw my mother running behind the sled, she wanted to give me a small bag of rusks but fell down into the snow unconscious. And we were driven away. And my mother left with a younger son, my little brother. You know my elder sister Tanya had been driven to Germany even before.'
'We were playing with the sticks with the boys in the yard. 'A big truck drove in, German soldiers jumped out of it and began to catch us and throw into the body under the tarp cover. They brought us to the station, the truck went backwards to the car and we were thrown inside like sacks... '.
'We began to be selected for export to Germany. The selection was made according to the height rather than age, and, unfortunately, I turned out to be tall like my father, while my sister was short like our mother. Then trucks arrived, the Germans were around us with machine guns, I was urged into a truck with straw, my sister was crying but they were repelling her shooting close to her feet. They did not let her come to me. This way... we were separated.'
'A full carriage... Overcrowded... Full carriage of kids, there was no one older thirteen. First time we stayed in Warsaw. Nobody fed and gave us water...'.
Here is another memory of a Stalingrad's inhabitant:
'The Germans have raised us all, began to sort, some with small children were placed in the trucks, and adolescents and adults went on foot. One woman had two infants. Germans began to help women climb into the trucks. One German held two infants in his hands, he has handed over one to his mother and failed with the second one when the truck started. The child began to squeak, and the German stood for a while, then dropped him to the ground and trampled underfoot.'
This is the most appalling tragedy of our nation: 5 million people were driven from the USSR to Germany during 1942-1944! They were driven to hard labour, which is why the young and strong ones were selected, but babies and old people left, so the families were broken, mothers and children were separated, they were shot for disobedience, but people were still hiding, running away! Isn't this the brutality of fascism that trampled on all human laws?! But we could see nothing of the kind in the film. It means someone really needs to erase this truth from our memory and create a myth about the harmlessness of fascism.
7. A rape scene of a miserable broken girl by German officer Peter Kahn is a masterpiece of F. Bondarchuk's film art. The rape scene is consecrated with majestic 'immersive' music having a note of some sadness and sorrow because we have to express sympathy to the German captain - he is about to lose his officer's honor. There is some justification, though. Herr Captain has just stopped fighting, so you should be tolerant and understand him when he is lust-stricken first and later when he takes hard the loss of his honor. Blogger Frallik believes that F. Bondarchuk kept his head at this crucial moment and used a trick of 'product placement' adding advertisement of push-up bra by an unknown brand. I really do not know whether it is worth suspecting him in such pettiness taking into account the billion budget of the film. Well, after the rape follows a very informative scene:
Scene after the rape (35 sec). Officer's uniform is folded on a chair. Camera is carefully and cautiously moving above the Iron Cross on the breast pocket and then a touching picture is coming into view: Captain is sitting with his eyes looking up to the sky and his conscience bothering him: 'Look at this filthy animal, Peter Kahn, bearer of the order of the Iron Cross, of noble Prussian family; Field Marshal Paulus himself invited me to dinner calling me a hero.' A mournful face. Music is majestic. 'It is absolutely impossible to fight against you. You have no idea of honor. You are the bandits who shoot in the back. You are fighting not for victory, but for revenge.' A bitter face. Music is getting more majestic and atmospheric. 'I have come here as a soldier. And you turned me into a beast.' Suddenly slight tremor touched girl's face who was lying in a beautiful pose; she lifted her head, her eyes looking at Peter with confidence, her hand gently reaching out toward him, as if trying to move up to him and protect, to comfort the unfortunate cavalier.
Did you understand everything? It was us who made Germans the beasts because the victim provokes the executioner, thus the victim is guilty towards the executioner in seduction. This is one more justification of fascism, which is written into the subconscious of gullible and receptive audience.
We have to note for reference: Captain Kahn called Paulus Field Marshal, but Hitler appointed him only on January 30, 1943 in the hope that he would commit suicide. Hitler's radiogram to Paulus especially pointed out that 'No one German Field Marshal has ever been captured yet.' But on January 31 Paulus surrendered to the Soviet command.
Let Konstantin Simonov say with all the pain and blood of his heart how the fascists raped our girls in fact:
...
'If you don't want to give away
Her you walked with and didn't touch,
Her you didn't dare even to kiss
For a long time - you loved her so much,
And the Germans cornering her
And taking her alive by force,
Crucifying her - three of them
Naked, on the floor; with coarse
Moans, hate, and blood, -
Those dogs taking advantage of
All you sacredly preserved
With your strong, male love.
&nbsp
If you don't want to give away
To a German with his black gun
Your house, your mother, your wife
All that's yours as a native son
No: No one will save your land
If you don't save it from the worst.
No: No one will kill this foe,
If you don't kill him first.
&nbsp
And until you have killed him, don't
Talk about your love - and
Call the house where you lived your home
Or the land where you grew up your land.'
...